North Carolina
Authentic Gem Mining
Famous North Carolina Gem Mining & Gemstones
North Carolina is famous for its rubies, sapphires, garnets, emeralds, citrines and many other gems. Do you want to experience the thrill of prospecting for your very own North Carolina Gemstones? Then join the fun at Sugar Creek Gem Mine, where we guarantee you will find both precious and semi-precious North Carolina gemstones. Our buckets are pre-filled with a random mixture of rough gemstones, rocks and dirt. Every bucket is guaranteed to include several great rough gemstones. Bigger buckets not only have more volume than a price equivalent amount of smaller buckets (eg. 1 Rockhound bucket versus 2 Junior Gemologist buckets), they have larger and better rough gemstones in them. We recommend that larger groups share a single large bucket rather than buying several smaller buckets for each individual miner.
The Gem Mining Process
Sugar Creek Gem Mine makes prospecting for North Carolina gemstones fun and enjoyable for guests of all ages and experience levels. The gem mining process starts by selecting a bucket of NC Gemstone rough. There are several different sizes of buckets to choose from.
Gem Mining Bucket Sizes & Prices:
Remember, every bucket you order is guaranteed to contain several rough gemstones. The larger the bucket, the more rough gemstones and the better quality & larger rough gemstones will be in that bucket. Most gem mining companies to not pre-fill their buckets with real authentic rough gemstones. At Sugar Creek you are guaranteed to find gems that you can have cut and polished into dazzling authentic gemstones!
After selecting a bucket of NC Gemstone rough our expert staff will set you up at our flume- line with all the instruction and equipment you need to be a certified NC Gemstone miner and mine for all of your precious gemstones. Sort, sift, wash and do it all again as you look for the authentic gems hidden in your mining bucket.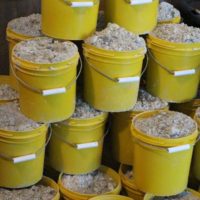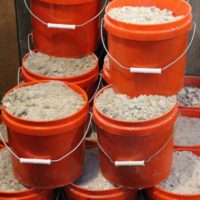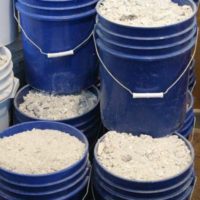 The Little Miner


1 Gal Bucket $19 ea

The Prospector


2 Gal Bucket $32 ea

The Mine Boss


5 gal Bucket $64 ea

The Glory Hole


7 Gal Bucket $120 ea

The Hound Dog


Approx. 35 Gal
$499 ea, includes 3 free cut stones
Selecting Jewelry-Ready Stones for Cutting & Polishing
Once you finish gem mining, we'll sort through your gemstones and identify them for you. Our helpful sorters will help you decide which stones to have cut and set into jewelry. You can get your gemstones professionally cut right here at Sugar Creek Gem Mine. Having rough gemstones cut and set into jewelry costs next to nothing compared with the prices you will find in traditional jewelry stores! Learn more about Jewelry Making.
Let's Go Gem Mining!
Do you want to experience the thrill of finding your very own gemstones? Then join the fun at Sugar Creek Mining Company, where our buckets offer you the opportunity to be a real gem miner! With 3 different sized buckets to choose from, there is sure to be something for everyone. The larger the bucket the greater the chance to find bigger and better gemstones. Siftings through your bucket of sand and rock, you will find a variety of rough gemstones, which our knowledgeable staff can help you identify, or even turn into a piece of beautiful jewelry to take home!
The process is easy and fun! Grab a bucket and shovel from inside and head out to the flumes, where our staff will show you how it works. Sacks are provided for you to collect your gems, which can then be brought inside and identified. Take this opportunity to ask your gem expert more questions, such as "How was this gem formed in the earth?" or "What mineral family does this belong to?".
Everyone from young diggers to seasoned gemologists are sure to have a blast!