About Sugar Creek Gem Mine
Do you want to experience the thrill of prospecting for your very own North Carolina Gemstones? Then join the fun at Sugar Creek Gem Mine, where we guarantee you will find both precious and semi-precious North Carolina gemstones. With Sugar Creek Gem Mine you can expect the highest quality service and first class equipment. We consider our Sugar Creek Gem Mine staff to be among the best in the industry. Some began their mining careers 40 years ago; while some were born into the industry. Our staff members are historians, jewelers, comedians, geologist, silversmiths, gemologist, and yet remain the single most complimented component of our organization. Our staff's enthusiasm for gemstones is truly contagious.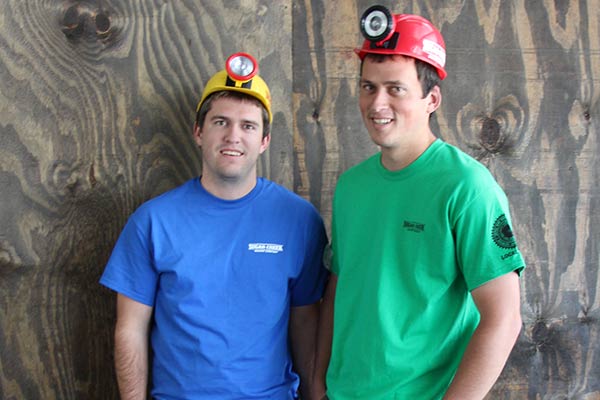 Sugar Creek Gem Mine is owned and operated by the Leonard brothers, twins Matt and Chris. The Leonard family has been in the North Carolina gem mining and outdoor adventure industries for decades. Their father founded High Mountain Expeditions, a rafting and adventure company, which they also now help to run.
If you have never experienced North Carolina Gem Mining – or any of the other mining activities that Sugar Creek Gem Mine offers feel free to explore our site and find the gem mining activity that fits your needs. You can contact a member of our NC Gem Mining consultant team and they can guide you through the process of arranging your next gem mining adventure with Sugar Creek Gem Mine.
Leonard Family Business
High Country Magazine featured the Leonard family in its August 2014 issue with a wonderful story of entrepreneurship, family ties and love for North Carolina's Appalachian mountain region. Read the full story here, about the adventure and rafting company, ski shop company and the twins' entrepreneurial passions with Sugar Creek Gem Mine and most recently, High Country Limo.